2022 had plenty of political drama: the midterm elections, the congressional investigation into Jan. 6, 2021, record numbers of migrants at the southern border, big pieces of legislation and former President Trump's declaration of his 2024 White House candidacy.
As the year draws to a close, here are some of the biggest winners and losers.
WINNERS
President Biden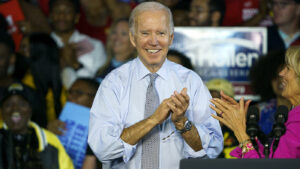 Biden's biggest victory came in limiting a defeat.
The midterm elections saw his party lose control of the House of Representatives — but only very narrowly — while retaining control of the Senate.
It was a remarkable result that cut against the grain of modern history. A president's party almost always loses much greater ground in the first midterms.
The outcome was all the more surprising in Biden's case because of his mediocre approval ratings and an economy afflicted by high inflation.
In the end, however, Biden's argument that a GOP purportedly taken over by "ultra-MAGA" Republicans had real bite.
Elsewhere, the president got his Inflation Reduction Act passed as well as other items of legislation expanding health care for veterans and boosting support for the U.S. semiconductor industry.
Amid all that, Biden held an international coalition together with impressive unanimity against Russia's invasion of Ukraine, which began in February.
The 80-year-old president has plenty of vulnerabilities as he mulls whether to seek a second term. But he is clearly among the year's political winners.
Florida Gov. Ron DeSantis (R)
Florida Governor Ron DeSantis speaks at the Conservative Political Action Conference (CPAC) in Orlando, Florida on Thursday, February 24, 2022. (UPI)
DeSantis, in the space of a year, has gone from a rising Republican star to a plausible front-runner for the GOP's 2024 presidential nomination.
The key moment was DeSantis's emphatic reelection win — he defeated Democrat Charlie Crist by almost 20 points — on an otherwise deeply disappointing night for the GOP.
The contrast between DeSantis's result and the defeats for various candidates endorsed by Trump could hardly have been starker.
DeSantis was to the fore in fights over hot-button issues from COVID-19 to migration as well.
He embraced controversy much of the way, including by organizing flights of migrants from Texas to Martha's Vineyard, Mass., amid a chorus of criticism.
But that didn't hurt his political fortunes at all. DeSantis's political brand — Trump with less chaos, basically — has gained real steam this year.
Sen-elect John Fetterman (D-Pa.)
Pennsylvania Democratic candidate for Senate John Fetterman speaks during a rally in Philidelphia, Pa., on Saturday, November 5, 2022. (Greg Nash)
Fetterman pulled off an impressive feat, taking a seat back for the Democrats. In doing so, he vanquished a high-profile Republican, TV star Mehmet Oz.
The achievement was all the more notable because Fetterman suffered a stroke just before winning his primary. His recovery kept him off the campaign trail for a long stretch. His performance at the sole televised debate with Oz was halting, to the point that it left many in his own party unnerved.
But Fetterman won by almost 5 points in the end, taking the seat from which Republican Sen. Pat Toomey was retiring. It was the sole Senate seat to shift from one party to the other this year.
The victory was a validation of Fetterman's unorthodox style, which won over some voters the national Democratic Party has at times struggled to reach.
LOSERS
Former President Trump
Trump had a very bad year indeed.
The most obvious example came in the midterm elections, when many of his most high-profile endorsees lost.
There was also his dinner with antisemites Ye, formerly known as Kanye West, and Nick Fuentes; his call for the "termination" of parts of the Constitution, which drew criticism even from many Republicans; the vivid descriptions of his behavior in and around Jan. 6, as unearthed by the House select committee; and on Dec. 30, the release of several years of his tax returns.
On top of all that, the former president faces numerous legal troubles.
The FBI's August raid of Mar-a-Lago may yet lead to charges regarding mishandling classified information or obstruction.
The Department of Justice is investigating the Mar-a-Lago matter as well as conducting a separate probe into Jan. 6. Both efforts are now overseen by special counsel Jack Smith.
Fani Willis, a district attorney in Georgia, is examining the actions of Trump and his allies aimed at overturning the 2020 election result in her state. In December, the Trump Organization was found guilty of tax fraud.
Trump has, of course, been written off numerous times before. He is right now the only major declared candidate for the GOP 2024 nomination.
But there's no denying he is in a diminished position as the year ends.
Herschel Walker
Georgia Republican Senate candidate Herschel Walker speaks at Muscogee County GOP headquarters on Saturday, May 21. (Associated Press)
Walker was perhaps the most high-profile GOP failure this year.
He suffered a prolonged defeat in the race for a Senate seat representing Georgia, falling behind in the first round of voting before finally losing a Dec. 6 runoff to Sen. Raphael Warnock (D-Ga.).
There are at least two factors that made Walker's experience especially bad.
From a political standpoint, he lost a race in a state that remains conservative and Republican-friendly — even if Biden did carry it by a narrow margin in 2020.
In this year's gubernatorial race, for instance, incumbent Gov. Brian Kemp (R) defeated Stacey Abrams (D) by 7 points.
In a more personal realm, Walker's decision to enter the race set in a train a sequence of events that saw past alleged misdeeds, including credible accusations of domestic violence, get fresh prominence and new stories emerge.
Two former girlfriends said Walker — who ran on a strongly anti-abortion platform — encouraged them to get abortions after becoming pregnant by him.