In case you missed it, Biden has been shuffling around Asia. And yes, he's making a fool of himself and the country… He called the prime minister of Cambodia the prime minister of Colombia. I mean, they both begin with "C," so he was close, right? He just met with China's President Xi, you know the guy whose country is responsible for the so-called "worldwide pandemic" that destroyed economies and livelihoods all over the globe. So, I am sure they had a lot to talk about, right?
You can really tell COVID was a huge deal to world leaders, when the first time these two meet since the "pandemic" and they don't even mention one word of it, right?
Here's what Charlie Spiering of Breitbart News said in a tweet: "Remarkable. Not one mention of coronavirus in Xi and Biden's opening remarks at their first in-person meeting in five years."
JOIN OUR TELEGRAM CHANNEL: TRUMP ARMY
Remarkable. Not one mention of coronavirus in Xi and Biden's opening remarks at their first in-person meeting in five years.

— Charlie Spiering (@charliespiering) November 14, 2022
Yes, indeed remarkably, but not all that shocking. Clearly, they have nothing left to say, everything went according to plan.
If this doesn't show you what really was going on, I don't know what will.
CNN reported on the meeting between the two cheating tyrants: Chinese leader Xi Jinping and US President Joe Biden exchanged views on key regional and global challenges, including Russia's invasion of Ukraine, according to a White House readout of the talks Monday.
"President Biden raised Russia's brutal war against Ukraine and Russia's irresponsible threats of nuclear use. President Biden and President Xi reiterated their agreement that a nuclear war should never be fought and can never be won and underscored their opposition to the use or threat of use of nuclear weapons in Ukraine," said the White House.
"President Biden also raised concerns about the DPRK's provocative behavior, noted all members of the international community have an interest in encouraging the DPRK to act responsibly, and underscored the United States' ironclad commitment to defending our Indo-Pacific Allies," according to the White House.
Joe Biden and President Xi Jinping "spoke candidly about their respective priorities and intentions across a range of issues" during their face to face talks in Bali on Monday, according to a White House readout of the meeting.
"President Biden explained that the United States will continue to compete vigorously with the (China), including by investing in sources of strength at home and aligning efforts with allies and partners around the world," the White House said.
"He reiterated that this competition should not veer into conflict and underscored that the United States and China must manage the competition responsibly and maintain open lines of communication."
It really cracks me up how our mainstream media talks about Bumbling Biden as if he's a serious leader that people actually respect. This is one of the biggest "fake news/propaganda" tells there is — pretending a man who should be in a nursing home gumming his tapioca, is doing these shrewd political moves.
Please, give us all a break. 
When Biden shuffled his way to Bali, he and the other globalists put on their "Dr. Evil" outfits and probably talked about re-setting the entire globe and punishing the dirty peasants.
And let me tell you this, they looked like a bunch of complete idiots.
You can watch the video below:
JOIN OUR TELEGRAM CHANNEL: TRUMP ARMY
What? Lol. pic.twitter.com/VBGnz9qMQ5

— Liz Churchill ™ 🇨🇦 (@liz_churchill7) November 14, 2022
Oh look, Daddy Klaus was wearing his Dr. Evil costume, too.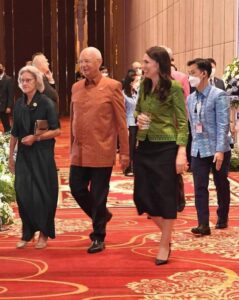 Here's what people online are saying:
"Are those shirt jackets NWO standard uniform issue? Or, can everyone buy one at the WEF online store?"
"They're in Bali for some summit wasting everybody's money that's why they're dressed like that"
"Is the chicken trying to cross the road? Trudope is always holding its own hands, and Brandon is always with a full diaper:)) I can't believe we are all watching it, and it's real. How did we get there?"
"I'm sure the Asians under their breaths are laughing and scoffing about how those 2 are such pushovers."
"Wardrobe provided by Chinese communist party fashions."
"Wtf is this, a star trek convention"
"God, these men all look like idiots" 
It's amazing how easy it was for this group of unpopular globalist goons to regain power, and how hard it is to remove them. Rigged elections have very BIG consequences.